Item Added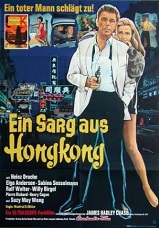 A Coffin From Hong Kong
(1964)
$19.99
aka: Ein Sarg Aus Hongkong
A private detective finds the body of Jo Ann Jefferson (Greta Chi) in his office, shot with his own gun. Soon, an attempt is made on himself, which causes him to travel to Hong Kong in order to avoid the police and unravel a complicated mystery involving drug smuggling and secret societies. Stars Heinz Drache, Elga Andersen, Ralf Wolter and Sabine Sesselmann. (In German language, with English subtitles).

Comes from a very nice widescreen import print.

Quantity: 1



Sci-Fi, Horror, Cult, Fantasy.... Super Strange Video has the ultimate collection of rare and vintage cult, horror, sci-fi, erotic movies. Featuring Barbara Steele, Bela Lugosi, Boris Karloff, Brigitte Lahaie, Bruce Li, Christopher Lee,, Evelyn Ankers, Frankenstein, Gamera, George Sanders, Guiron, Helga Line, Jiger, Kumi Mizuno, Lon Chaney, Lorena Velazquez, Michael Gough, Michael Rennie, Paul Naschy, Peter Cushing, Robert Reed, Santo, Starman, Ted Cassidy, Valerie Leon, Vincent Price, Viras, Zigra