Item Added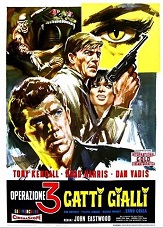 Kommissar X: Drei Gelb Katzen
(1966)
$19.99
aka: Death Is Nimble, Death Is Quick
Two Yanks (Tony Kendall and Brad Harris) are hired to protect a rich lady from a sinister underworld group. Lots of jungle thrills, martial arts, ancient temples, huge explosions and sci-fi elements. Watch for Harris' great karate fight inside a crumbling temple, surrounded by masked members of an ancient sect. Also with Ann Smyrner and Dan Vadis.

This film came from a widescreen import print in excellent picture quality.

Quantity: 1


Sci-Fi, Horror, Cult, Fantasy.... Super Strange Video has the ultimate collection of rare and vintage cult, horror, sci-fi, erotic movies. Featuring Barbara Steele, Bela Lugosi, Boris Karloff, Brigitte Lahaie, Bruce Li, Christopher Lee,, Evelyn Ankers, Frankenstein, Gamera, George Sanders, Guiron, Helga Line, Jiger, Kumi Mizuno, Lon Chaney, Lorena Velazquez, Michael Gough, Michael Rennie, Paul Naschy, Peter Cushing, Robert Reed, Santo, Starman, Ted Cassidy, Valerie Leon, Vincent Price, Viras, Zigra