Item Added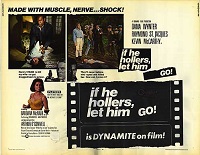 If He Hollers, Let Him Go!
(1968)
$19.99
aka's: Dead Right/Night Hunt
When a black man (Raymond St. Jacques) breaks out of prison to prove his innocence, he gets caught in a web of deceit in the Deep South. In a fight against time and prejudice, he must find the real killer and clear his name before it's too late. Also stars Dana Wynter, Kevin McCarthy and Barbara McNair.

Quantity: 1



Sci-Fi, Horror, Cult, Fantasy.... Super Strange Video has the ultimate collection of rare and vintage cult, horror, sci-fi, erotic movies. Featuring Barbara Steele, Bela Lugosi, Boris Karloff, Brigitte Lahaie, Bruce Li, Christopher Lee,, Evelyn Ankers, Frankenstein, Gamera, George Sanders, Guiron, Helga Line, Jiger, Kumi Mizuno, Lon Chaney, Lorena Velazquez, Michael Gough, Michael Rennie, Paul Naschy, Peter Cushing, Robert Reed, Santo, Starman, Ted Cassidy, Valerie Leon, Vincent Price, Viras, Zigra