Item Added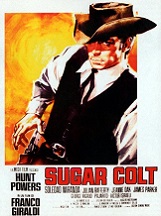 Sugar Colt
(1966)
$19.99
aka: Rocco Der Mann Mit Den Zwei Gesichtern
In order to avenge a friend and to fulfill his friend's last wish, Rocco (Jack Betts aka: Hunt Powers) tries to find out what happened to an army corps that has mysteriously disappeared. he then disguises himself as a doctor and begins investigating in a somewhat uncomfortable town. Also stars Soledad Miranda, Giuliano Raffaelli and Gina Rovere. (In widescreen format).


On August 18th, 1970, Soledad Miranda was killed in a head-on-collision on the Costa do Sol highway, between Estoril and Lisbon, in Portugal. She was 27.


This film came from a widescreen German import print in very nice picture quality.

Quantity: 1


Spaghetti Westerns. Super Strange Video has the ultimate collection of rare and vintage cult, horror, sci-fi, erotic movies. Featuring Barbara Steele, Bela Lugosi, Boris Karloff, Brigitte Lahaie, Bruce Li, Christopher Lee,, Evelyn Ankers, Frankenstein, Gamera, George Sanders, Guiron, Helga Line, Jiger, Kumi Mizuno, Lon Chaney, Lorena Velazquez, Michael Gough, Michael Rennie, Paul Naschy, Peter Cushing, Robert Reed, Santo, Starman, Ted Cassidy, Valerie Leon, Vincent Price, Viras, Zigra