Item Added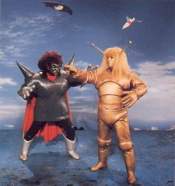 Space Giants
(1966-67)
$49.99
aka's: Magma Taishi/Ambassador Magma/Monsters From Space/The Magma/Captain Magma/Monsters From Outer Space/マグマ大使
Features an evil mastermind from outer space named Rodak, who plans to take over Earth. Luckily for us, we have the Space Giants - Goldar, Silvar and Gamma - to protect us. The Space Giants live in a cave with an old man named Methuselah and fly around battling the agents of Rodak, who dissolve into a really creepy green sludge when shot.
(In Japanese language, Uncut).


Sold as a 13-DVD-R set.

Quantity: 1



New Arrivals. Super Strange Video has the ultimate collection of rare and vintage cult, horror, sci-fi, erotic movies. Featuring Barbara Steele, Bela Lugosi, Boris Karloff, Brigitte Lahaie, Bruce Li, Christopher Lee,, Evelyn Ankers, Frankenstein, Gamera, George Sanders, Guiron, Helga Line, Jiger, Kumi Mizuno, Lon Chaney, Lorena Velazquez, Michael Gough, Michael Rennie, Paul Naschy, Peter Cushing, Robert Reed, Santo, Starman, Ted Cassidy, Valerie Leon, Vincent Price, Viras, Zigra