Item Added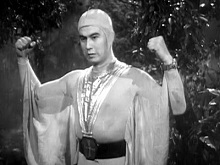 Invaders From Space
(1965)
$19.99
aka's: Sūpā jaiantsu - Kaiseijin no majō/Super Giant 3
Aliens from the planet Emerald send superhero Starman (Ken Utsui), their cosmic crusader in bulging tights, to stop amphibious invaders from space in this flashy, martial-arts, sci-fi adventure. Also stars Sachihiro Ohsawa.

Note: In the original serial, the aliens are described as being the kappa, a creature from Japanese mythology. But in the condensed U.S. version, the aliens are instead referred to as "salamander men."

Quantity: 1



Strange Superheroes. Super Strange Video has the ultimate collection of rare and vintage cult, horror, sci-fi, erotic movies. Featuring Barbara Steele, Bela Lugosi, Boris Karloff, Brigitte Lahaie, Bruce Li, Christopher Lee,, Evelyn Ankers, Frankenstein, Gamera, George Sanders, Guiron, Helga Line, Jiger, Kumi Mizuno, Lon Chaney, Lorena Velazquez, Michael Gough, Michael Rennie, Paul Naschy, Peter Cushing, Robert Reed, Santo, Starman, Ted Cassidy, Valerie Leon, Vincent Price, Viras, Zigra