Item Added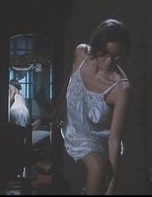 11 Days 11 Nights: The Labyrinth Of Love
(1993)
$19.99
aka: Il Labirinto Dei Sensi
Valerie (Monica Seller) is 32, beautiful and is able to make a favorable impression on everyone she meets. Her arrival in the Chang Sun household soon sees the old house becoming comfortable, welcoming and having an altogether more relaxed atmosphere. Soon everyone in the house lives by her rules. She freely proves she is a sensual lover, and succeeds in entrapping an entire family into her sensual life. Gridhouse drama from the Italian king of sexploitation, Joe D'Amato. Also with Steven Rogers, Lora Luna, Mike Monty and Muriel Lim.

Joe D'Amato died from heart failure at his villa in Rome on January 23rd, 1999. He was 62.

Quantity: 1



New Arrivals. Super Strange Video has the ultimate collection of rare and vintage cult, horror, sci-fi, erotic movies. Featuring Barbara Steele, Bela Lugosi, Boris Karloff, Brigitte Lahaie, Bruce Li, Christopher Lee,, Evelyn Ankers, Frankenstein, Gamera, George Sanders, Guiron, Helga Line, Jiger, Kumi Mizuno, Lon Chaney, Lorena Velazquez, Michael Gough, Michael Rennie, Paul Naschy, Peter Cushing, Robert Reed, Santo, Starman, Ted Cassidy, Valerie Leon, Vincent Price, Viras, Zigra