Item Added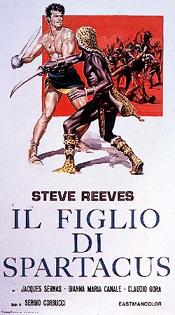 IL Figlio Di Spartacus (Italian language version)
(1962)
$19.99
aka's: The Son Of Spartacus/The Slave
The decurion Randus (Steve Reeves) is promted by Caesar to centurion and sent to Egypt to keep Cesar informed on the actions and intentions of co-triumvir Marcus Licinius Crassus. A fateful sea trip from Egypt to Rome forces Randus in captivity by mercenary troops and leads a revolt by which he gets freedom for himself and all the other slaves. Through an amulet he received from his late mother, a man who had fought by Spartacus' side, identifies the young man as Spartacus' and Varinia's son. At first, reluctant to accept this story about his origins, Randus is forced by circumstances to repeat the feat of his father, twenty years later. Also with Ombretta Colli. (In Italian language).

This film came from a very good widescreen import print.

Quantity: 1


Hercules And Friends. Super Strange Video has the ultimate collection of rare and vintage cult, horror, sci-fi, erotic movies. Featuring Barbara Steele, Bela Lugosi, Boris Karloff, Brigitte Lahaie, Bruce Li, Christopher Lee,, Evelyn Ankers, Frankenstein, Gamera, George Sanders, Guiron, Helga Line, Jiger, Kumi Mizuno, Lon Chaney, Lorena Velazquez, Michael Gough, Michael Rennie, Paul Naschy, Peter Cushing, Robert Reed, Santo, Starman, Ted Cassidy, Valerie Leon, Vincent Price, Viras, Zigra