Item Added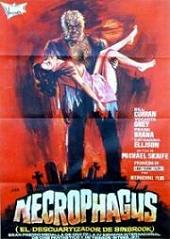 Graveyard Of Horror
(1971)
$19.99
aka's: The Butcher Of Binbrook/Necrophagus/
Necromaniac/Tráfico De Cadáveres
Scientist Michael Sharrington (Bill Curran) conducts strange experiments with the transmutation of human cells which involves hibernating bodies and pumping chemicals into the bloodstream. One night, he decides to perform these tests on himself -- with disastrous results. Also with Catherine Ellison, Franco Brana, Victor Israel, Beatriz Lacy and Rosario Royo.

Quantity: 1


Sci-Fi, Horror, Cult, Fantasy.... Super Strange Video has the ultimate collection of rare and vintage cult, horror, sci-fi, erotic movies. Featuring Barbara Steele, Bela Lugosi, Boris Karloff, Brigitte Lahaie, Bruce Li, Christopher Lee,, Evelyn Ankers, Frankenstein, Gamera, George Sanders, Guiron, Helga Line, Jiger, Kumi Mizuno, Lon Chaney, Lorena Velazquez, Michael Gough, Michael Rennie, Paul Naschy, Peter Cushing, Robert Reed, Santo, Starman, Ted Cassidy, Valerie Leon, Vincent Price, Viras, Zigra