Item Added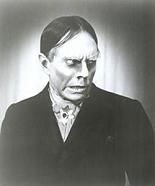 Roland: TV Horror Film Host
(1958)
$19.99
aka's: The Cool Ghoul/Zacherley
John Zacherle (aka: Zacherley) was the host of Philadelphia TV station WCAU's Shock Theater, which debuted on October 7th, 1957. As the host, Zacherle appeared wearing a long black undertaker's coat as the character "Roland," who lived in a crypt with his wife "My Dear" and his lab assistant Igor.


Features some of the original TV commercials of the time period.

Quantity: 1


TV Shows. Super Strange Video has the ultimate collection of rare and vintage cult, horror, sci-fi, erotic movies. Featuring Barbara Steele, Bela Lugosi, Boris Karloff, Brigitte Lahaie, Bruce Li, Christopher Lee,, Evelyn Ankers, Frankenstein, Gamera, George Sanders, Guiron, Helga Line, Jiger, Kumi Mizuno, Lon Chaney, Lorena Velazquez, Michael Gough, Michael Rennie, Paul Naschy, Peter Cushing, Robert Reed, Santo, Starman, Ted Cassidy, Valerie Leon, Vincent Price, Viras, Zigra