Item Added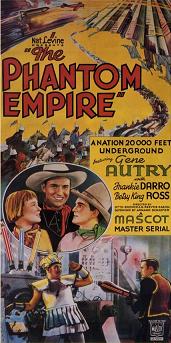 The Phantom Empire
(1935)
$24.99
aka: Gene Autry And The Phantom Empire
Gene Autry faces the futuristic "Thunder Riders" from the subterranean city of Murania, located 20,000 feet beneath his ranch. A complete serial in 12 episodes. If you only see one science-fiction western in your life, this is the one.

12 chapter serial, 2 VHS or DVD-R set.






Quantity: 1



Rare Serials. Super Strange Video has the ultimate collection of rare and vintage cult, horror, sci-fi, erotic movies. Featuring Barbara Steele, Bela Lugosi, Boris Karloff, Brigitte Lahaie, Bruce Li, Christopher Lee,, Evelyn Ankers, Frankenstein, Gamera, George Sanders, Guiron, Helga Line, Jiger, Kumi Mizuno, Lon Chaney, Lorena Velazquez, Michael Gough, Michael Rennie, Paul Naschy, Peter Cushing, Robert Reed, Santo, Starman, Ted Cassidy, Valerie Leon, Vincent Price, Viras, Zigra