Item Added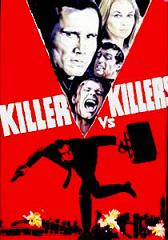 Killer vs Killers
(1985)
$19.99
aka's: Killer Contro Killers/Death Commando
An Arab oil sheik hires a group of underworld pros, led by Sterling (Henry Silva), to steal a top secret formula for synthetic fuel and destroy the manufacturing plant. However, when the team finishes the job, the sheik gives orders to eliminate them. Sterling, armed with pistols, grenades, bazookas and zoo animals, sets out for revenge. Also stars Dalila Di Lazzaro and Albert Janni. (In Italian language, with English subtitles).

This film comes from a widescreen import print in very nice picture quality.

Quantity: 1


Sci-Fi, Horror, Cult, Fantasy.... Super Strange Video has the ultimate collection of rare and vintage cult, horror, sci-fi, erotic movies. Featuring Barbara Steele, Bela Lugosi, Boris Karloff, Brigitte Lahaie, Bruce Li, Christopher Lee,, Evelyn Ankers, Frankenstein, Gamera, George Sanders, Guiron, Helga Line, Jiger, Kumi Mizuno, Lon Chaney, Lorena Velazquez, Michael Gough, Michael Rennie, Paul Naschy, Peter Cushing, Robert Reed, Santo, Starman, Ted Cassidy, Valerie Leon, Vincent Price, Viras, Zigra