Item Added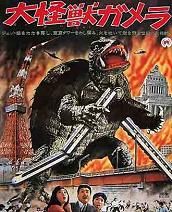 Gamera (Japanese Version)
(1965)
$19.99
aka's: Daikaijū Gamera/Gamera The Invincible/
大怪獣ガメラ
A nuclear explosion in the far north unleashes Gamera, the legendary flying turtle, from his long sleep under the ice. In his search for energy, Gamera wreaks havoc over the entire world and it's up to scientists, assisted by a young boy (Yoshiro Uchida) with a strange sympathetic link to the monster, to put a stop to Gamera's rampage. This is the Japanese language version of Gamera The Invincible (also available here at SSV). Stars Eiji Funakoshi and Harumi Kiritachi. (In Japanese language, with English subtitles).

This film comes from a rare widescreen import print, which is of far superior picture quality to the U.S. version.

Quantity: 1



Sci-Fi, Horror, Cult, Fantasy.... Super Strange Video has the ultimate collection of rare and vintage cult, horror, sci-fi, erotic movies. Featuring Barbara Steele, Bela Lugosi, Boris Karloff, Brigitte Lahaie, Bruce Li, Christopher Lee,, Evelyn Ankers, Frankenstein, Gamera, George Sanders, Guiron, Helga Line, Jiger, Kumi Mizuno, Lon Chaney, Lorena Velazquez, Michael Gough, Michael Rennie, Paul Naschy, Peter Cushing, Robert Reed, Santo, Starman, Ted Cassidy, Valerie Leon, Vincent Price, Viras, Zigra