Item Added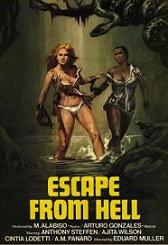 Die Schwarze Nymphomanin - Teil 3
(1980)
$19.99
aka's: Escape From Hell/Femmine Infernali/El infierno De Las Mujeres/Hell Prison/Hellfire On Ice, Part 2: Escape From Hell/L'inferno Delle Donee
A women's prison camp is located deep in the tropical rain forest. Sadistic guards and the warden from hell (Luciano Pigozzi) make life almost unbearable for the scantily-clad inmates, and any infraction of the rules is dealt with swiftly and savagely. The camp doctor (Anthony Steffen) is horrified at what he sees happening, and drinks heavily to push the horror away. Finally the inmates have had had enough, and they enlist the help of the doctor to try and escape. Also with Ajita Wilson, Cristina Lay and Cintia Lodetti. (Widescreen format).

Born a man, transvestite entertainer Ajita Wilson had a sex-change operation in the mid-1970's. On May 26, 1987, she died of a brain hemorrhage she sustained in an automobile accident.

Quantity: 1



Sci-Fi, Horror, Cult, Fantasy.... Super Strange Video has the ultimate collection of rare and vintage cult, horror, sci-fi, erotic movies. Featuring Barbara Steele, Bela Lugosi, Boris Karloff, Brigitte Lahaie, Bruce Li, Christopher Lee,, Evelyn Ankers, Frankenstein, Gamera, George Sanders, Guiron, Helga Line, Jiger, Kumi Mizuno, Lon Chaney, Lorena Velazquez, Michael Gough, Michael Rennie, Paul Naschy, Peter Cushing, Robert Reed, Santo, Starman, Ted Cassidy, Valerie Leon, Vincent Price, Viras, Zigra