Item Added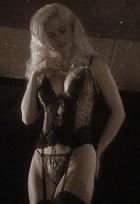 11 Days 11 Nights: The Web Of Desire
(1990)
$19.99
aka's: Undici Giorni, Undici Notti 2/11 Days, 11 Nights 2/ 11 Giorni, 11 Notti 2/Eleven Days, Eleven Nights 2/Web Of Desire: 11 Days 11 Nights 4
Sarah Asproon (Kristine Rose) returns to New Orleans to act as executrix of the estate of a millionaire whom she was once the mistress of. She must now decide which one of his surviving family members will inherit his fortune. It's not a decision that she's willing to make until she sleeps with every member of his family. Grindhouse drama from the Italian king of sexploitation, Joe D'Amato. Also with Laura Gemser and Ruth Collins.

Joe D'Amato died from heart failure at his villa in Rome on January 23rd, 1999. He was 62.

Quantity: 1



New Arrivals. Super Strange Video has the ultimate collection of rare and vintage cult, horror, sci-fi, erotic movies. Featuring Barbara Steele, Bela Lugosi, Boris Karloff, Brigitte Lahaie, Bruce Li, Christopher Lee,, Evelyn Ankers, Frankenstein, Gamera, George Sanders, Guiron, Helga Line, Jiger, Kumi Mizuno, Lon Chaney, Lorena Velazquez, Michael Gough, Michael Rennie, Paul Naschy, Peter Cushing, Robert Reed, Santo, Starman, Ted Cassidy, Valerie Leon, Vincent Price, Viras, Zigra