Item Added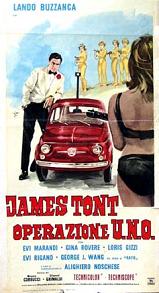 James Tont Operazione U.N.O.
(1965)
$19.99
aka: James Tont Operazione UNO
The diabolical Goldsinger (Loris Gizzi), enraged at being excluded from the UN, hatches a plot to blow up the assembly while all the heads of the state participate. Luckily, inept agent James Tont (Lando Buzzanca) discovers the plot and sets out to stop Goldsinger. Also with Evi Marandi, Evi Rigano, Gina Rovere, George Wang and Susanne Clemm. (In Italian language and widescreen format).


Quantity: 1



Sci-Fi, Horror, Cult, Fantasy.... Super Strange Video has the ultimate collection of rare and vintage cult, horror, sci-fi, erotic movies. Featuring Barbara Steele, Bela Lugosi, Boris Karloff, Brigitte Lahaie, Bruce Li, Christopher Lee,, Evelyn Ankers, Frankenstein, Gamera, George Sanders, Guiron, Helga Line, Jiger, Kumi Mizuno, Lon Chaney, Lorena Velazquez, Michael Gough, Michael Rennie, Paul Naschy, Peter Cushing, Robert Reed, Santo, Starman, Ted Cassidy, Valerie Leon, Vincent Price, Viras, Zigra