Item Added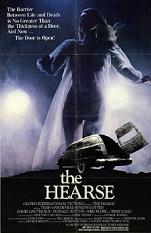 The Hearse
(1980)
$19.99
When Jane Hardy (Trish Van Devere) inherits her late aunt's home, she faces a demon-possessed vehicle in the form of a vintage hearse. Tormented by the car and harassed by mysterious townsfolk, Jane has to unlock her aunt's hidden secrets or perish. Part of the suspense comes from wondering if Jane is being tormented by the supernatural, her fragile emotional state, or someone just trying to scare Jane off her property. Also with Joseph Cotten and David Gautreaux.

David Gautreaux was originally cast for the role of Lieutenant Xon, Vulcan Science Officer aboard the U.S.S. Enterprise for the TV series Star Trek: Phase II prior to the project being pulled and reworked into Star Trek: The Motion Picture (1979).

Joseph Cotten died on February 6, 1994, of pneumonia, a complication of throat cancer at the age of 88.

Quantity: 1



Sci-Fi, Horror, Cult, Fantasy.... Super Strange Video has the ultimate collection of rare and vintage cult, horror, sci-fi, erotic movies. Featuring Barbara Steele, Bela Lugosi, Boris Karloff, Brigitte Lahaie, Bruce Li, Christopher Lee,, Evelyn Ankers, Frankenstein, Gamera, George Sanders, Guiron, Helga Line, Jiger, Kumi Mizuno, Lon Chaney, Lorena Velazquez, Michael Gough, Michael Rennie, Paul Naschy, Peter Cushing, Robert Reed, Santo, Starman, Ted Cassidy, Valerie Leon, Vincent Price, Viras, Zigra