Item Added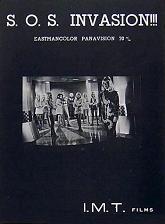 S.O.S. Invasion
(1969)
$19.99
aka: S.O.S. Invasión
Female aliens (in bikinis!) arrive from the galaxy Epsilon Eridani and establish a laboratory in an old Spanish castle in order to make zombie robots from human corpses to do their evil bidding. With Jack Taylor, Mara Cruz, Diana Sorel, José María Tasso, Titania Climent, Catherine Ellison and Vallerie Mulholland. (In Spanish language and widescreen format).

NOTE: The picture quality for this film is a bit soft, but currently the best print available anywhere.

Quantity: 1



Sci-Fi, Horror, Cult, Fantasy.... Super Strange Video has the ultimate collection of rare and vintage cult, horror, sci-fi, erotic movies. Featuring Barbara Steele, Bela Lugosi, Boris Karloff, Brigitte Lahaie, Bruce Li, Christopher Lee,, Evelyn Ankers, Frankenstein, Gamera, George Sanders, Guiron, Helga Line, Jiger, Kumi Mizuno, Lon Chaney, Lorena Velazquez, Michael Gough, Michael Rennie, Paul Naschy, Peter Cushing, Robert Reed, Santo, Starman, Ted Cassidy, Valerie Leon, Vincent Price, Viras, Zigra