Item Added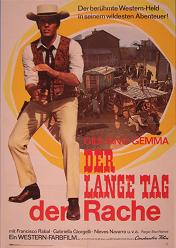 Days Of Vengeance
(1967)
$19.99
aka's: Angel Face-Der lange Tag Der Rache/I Lunghi giorni della vendetta/Long Days Of Vengeance/The Deadliest Gunfight/Vendetta
Ted Barnett (Giuliano Gemma) is a young man framed for a crime he did not commit. His escape from prison alarms several inhabitants of Kartown, a community close to the Mexican border. Among those concerned are his former fiancé Dolly (Nieves Navarro), whose false testimony sent him to prison. In the meantime Dolly has since married the town's sheriff (Francisco Rabal), appointed by Cobb (Conrado San Martín), a corrupt landowner and arms smuggler. Barnett then goes to Kartown to find out who really killed his father and why. When he finally gathers all the information, he decides to inform the local judge. But once again he is accused of a crime and this time he literally risks his neck as he is condemned to be hanged.

Comes from a rare widescreen import print.

Quantity: 1



Spaghetti Westerns. Super Strange Video has the ultimate collection of rare and vintage cult, horror, sci-fi, erotic movies. Featuring Barbara Steele, Bela Lugosi, Boris Karloff, Brigitte Lahaie, Bruce Li, Christopher Lee,, Evelyn Ankers, Frankenstein, Gamera, George Sanders, Guiron, Helga Line, Jiger, Kumi Mizuno, Lon Chaney, Lorena Velazquez, Michael Gough, Michael Rennie, Paul Naschy, Peter Cushing, Robert Reed, Santo, Starman, Ted Cassidy, Valerie Leon, Vincent Price, Viras, Zigra