Item Added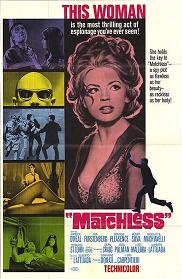 Mission Top Secret
(1967)
$19.99
aka's: Matchless/Incomparable/Mission T.S./Sin Rival
In this spy spoof, Patrick O'Neal stars as a suave secret agent who gets his hands on a mystical ring that grants him the power of invisibility for a 10-hour period. As a number of rivals--including his sleazy partner--try to track him down, he travels throughout Europe. Also stars Ira von Fürstenberg, Donald Pleasence and Henry Silva. And with Nicoletta Machiavelli and Sorrell Booke.


NOTE: The picture quality for this film is a bit grainy and the color is rather faded, but it is still the best English language version currently available anywhere.


Quantity: 1


Sci-Fi, Horror, Cult, Fantasy.... Super Strange Video has the ultimate collection of rare and vintage cult, horror, sci-fi, erotic movies. Featuring Barbara Steele, Bela Lugosi, Boris Karloff, Brigitte Lahaie, Bruce Li, Christopher Lee,, Evelyn Ankers, Frankenstein, Gamera, George Sanders, Guiron, Helga Line, Jiger, Kumi Mizuno, Lon Chaney, Lorena Velazquez, Michael Gough, Michael Rennie, Paul Naschy, Peter Cushing, Robert Reed, Santo, Starman, Ted Cassidy, Valerie Leon, Vincent Price, Viras, Zigra