Item Added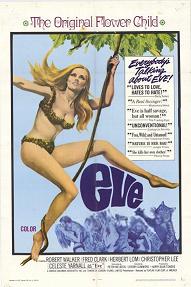 The Face Of Eve (UPGADE)
(1968)
$19.99
aka's: Eve/Diana-Tochter Der Wildnis/Eva En La Selva/Eva
While searching for Incan treasure, Mike (Robert Walker Jr.), an American pilot, crash lands in the upper Amazon region of Brazil. He is then rescued from savages by a white girl named Eve (Celeste Yarnall), who is worshiped as a goddess by the natives. When news of Mike's adventure reaches a small river port, an unscrupulous American showman, John Burke (Fred Clark), sets out to find Eve and add her to his touring sideshow. Also stars Herbert Lom and Christopher Lee.

NOTE: Best English language version available anywhere.

Quantity: 1



Sci-Fi, Horror, Cult, Fantasy.... Super Strange Video has the ultimate collection of rare and vintage cult, horror, sci-fi, erotic movies. Featuring Barbara Steele, Bela Lugosi, Boris Karloff, Brigitte Lahaie, Bruce Li, Christopher Lee,, Evelyn Ankers, Frankenstein, Gamera, George Sanders, Guiron, Helga Line, Jiger, Kumi Mizuno, Lon Chaney, Lorena Velazquez, Michael Gough, Michael Rennie, Paul Naschy, Peter Cushing, Robert Reed, Santo, Starman, Ted Cassidy, Valerie Leon, Vincent Price, Viras, Zigra