Item Added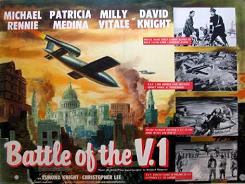 Battle Of The V-1
(1958)
$19.99
aka's: Missiles From Hell: The Story Of The V-1/Unseen Heroes
Two Polish resistance men are deliberately captured and sent to a labor camp so that they can spy on scientific experiments on the buzzbomb. Stars Michael Rennie, Patricia Medina, Milly Vitale, David Knight and Christopher Lee.

Patricia Medina died on April 28, 2012 at Barlow Respiratory Hospital in Los Angeles, CA at the age of 92. She had been in declining health.

Quantity: 1


Sci-Fi, Horror, Cult, Fantasy.... Super Strange Video has the ultimate collection of rare and vintage cult, horror, sci-fi, erotic movies. Featuring Barbara Steele, Bela Lugosi, Boris Karloff, Brigitte Lahaie, Bruce Li, Christopher Lee,, Evelyn Ankers, Frankenstein, Gamera, George Sanders, Guiron, Helga Line, Jiger, Kumi Mizuno, Lon Chaney, Lorena Velazquez, Michael Gough, Michael Rennie, Paul Naschy, Peter Cushing, Robert Reed, Santo, Starman, Ted Cassidy, Valerie Leon, Vincent Price, Viras, Zigra