Item Added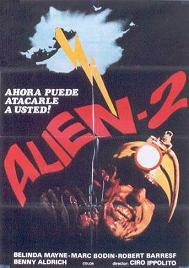 Alien 2 (35mm Upgrade)
(1980)
$19.99
aka's: Alien 2 Sulla Terra/Alien 2 E Sulla Terra/
Alien 2: On Earth/Strangers
Italian rip-off of Alien. As the world awaits the return of a crew of astronauts from a deep space mission, a young woman (Belinda Mayne) begins to have horrible psychic visions. After the spacecraft returns to Earth missing its occupants, people begin discovering weird, pulsating rocks, which are revealed to be the eggs of an alien creature that incubates inside human hosts before exploding out. Also stars Marc Bodin and Roberto Barrese.

This film came from an uncut widescreen UK import print, in excellent picture quality.

Quantity: 1



New Arrivals. Super Strange Video has the ultimate collection of rare and vintage cult, horror, sci-fi, erotic movies. Featuring Barbara Steele, Bela Lugosi, Boris Karloff, Brigitte Lahaie, Bruce Li, Christopher Lee,, Evelyn Ankers, Frankenstein, Gamera, George Sanders, Guiron, Helga Line, Jiger, Kumi Mizuno, Lon Chaney, Lorena Velazquez, Michael Gough, Michael Rennie, Paul Naschy, Peter Cushing, Robert Reed, Santo, Starman, Ted Cassidy, Valerie Leon, Vincent Price, Viras, Zigra