Item Added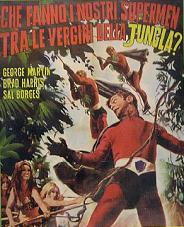 3 Supermen In The Jungle (Italian Language Version)
(1970)
$19.99
aka's: Fantastic Supermen And The Amazon/Che Fanno I Nostri Supermen Tra Le Vergini Della Giungla?
Third entry in the popular 3 Fantastic Supermen series from Italy. The three superheroes attempt to reclaim the stolen lease of a uranium mine. But they must first battle Russian scientists who plan to exploit the natives. Stars Brad Harris, George Martin, Sal Borgese, Femi Benussi, Pasquale Simeoni and others. (In Italian language).

This film comes from a rare widescreen import print, which has much better picture quality than the English language version.

Quantity: 1


Strange Superheroes. Super Strange Video has the ultimate collection of rare and vintage cult, horror, sci-fi, erotic movies. Featuring Barbara Steele, Bela Lugosi, Boris Karloff, Brigitte Lahaie, Bruce Li, Christopher Lee,, Evelyn Ankers, Frankenstein, Gamera, George Sanders, Guiron, Helga Line, Jiger, Kumi Mizuno, Lon Chaney, Lorena Velazquez, Michael Gough, Michael Rennie, Paul Naschy, Peter Cushing, Robert Reed, Santo, Starman, Ted Cassidy, Valerie Leon, Vincent Price, Viras, Zigra