Item Added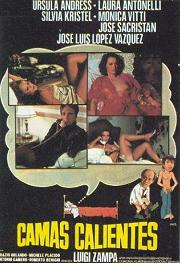 Camas Calientes (Italian Language Widescreen Version)
(1979)
$19.99
aka's: Tigers In Lipstick/Letti Selvaggi/Lady Chatterley's Palace/Wild Beds
Four famously attractive women appear as the sexual aggressors, in a series of vignettes, highlighting the seductive powers of women. Stars Ursula Andress, Laura Antonelli, Sylvia Kristel and Monica Vitti. (In widescreen format: In Italian language).


NOTE: This is the Italian language version of
Tigers In Lipstick and has far superior picture quality than the English language version.

Quantity: 1



Sci-Fi, Horror, Cult, Fantasy.... Super Strange Video has the ultimate collection of rare and vintage cult, horror, sci-fi, erotic movies. Featuring Barbara Steele, Bela Lugosi, Boris Karloff, Brigitte Lahaie, Bruce Li, Christopher Lee,, Evelyn Ankers, Frankenstein, Gamera, George Sanders, Guiron, Helga Line, Jiger, Kumi Mizuno, Lon Chaney, Lorena Velazquez, Michael Gough, Michael Rennie, Paul Naschy, Peter Cushing, Robert Reed, Santo, Starman, Ted Cassidy, Valerie Leon, Vincent Price, Viras, Zigra