Item Added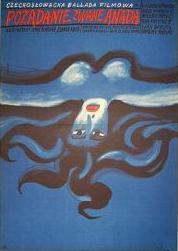 Adrift
(1969)
$19.99
aka's: Touha Zvaná Anada/Desire Called Anada/ Hrst Plna Vody
A fisherman (Rade Markovic) saves a woman named Anada (Paula Pritchett) adrift from drowning in the Danube river. He then takes her to his home and allows her to stay. Eventually he commits adultery with her, but his wife (Milena Dravic) also seems to be in love with the strange young woman. (In Czech language, with English subtitles).

Production on this film was suspended in 1968, during the Soviet invasion of Czechoslovakia, because a temporary military bridge had been erected across the Danube river, right by the filming location. Production resumed in 1970 and the film was released in the U.S on July 6th, 1971.

NOTE: The picture quality for this film is a bit soft, but currently the best available anywhere.

Quantity: 1



Sci-Fi, Horror, Cult, Fantasy.... Super Strange Video has the ultimate collection of rare and vintage cult, horror, sci-fi, erotic movies. Featuring Barbara Steele, Bela Lugosi, Boris Karloff, Brigitte Lahaie, Bruce Li, Christopher Lee,, Evelyn Ankers, Frankenstein, Gamera, George Sanders, Guiron, Helga Line, Jiger, Kumi Mizuno, Lon Chaney, Lorena Velazquez, Michael Gough, Michael Rennie, Paul Naschy, Peter Cushing, Robert Reed, Santo, Starman, Ted Cassidy, Valerie Leon, Vincent Price, Viras, Zigra