Item Added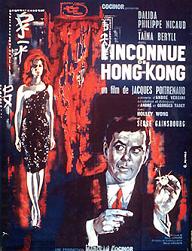 L'inconnue De Hong Kong
(1963)
$19.99
aka's: Stranger From Hong-Kong/The Unknown Of Hong Kong
A cynical orchestra leader and a singer (Dalida) gets caught up in jewel trafficking while performing in Hong Kong and discovers its hellish underworld. Also stars Philippe Nicaud and Ta´na Beryll. (In French language).

On May 3, 1987, Dalida died as a result of an overdose of barbiturates, leaving a suicide note reading, "Life has become unbearable ... Forgive me."

Quantity: 1


Sci-Fi, Horror, Cult, Fantasy.... Super Strange Video has the ultimate collection of rare and vintage cult, horror, sci-fi, erotic movies. Featuring Barbara Steele, Bela Lugosi, Boris Karloff, Brigitte Lahaie, Bruce Li, Christopher Lee,, Evelyn Ankers, Frankenstein, Gamera, George Sanders, Guiron, Helga Line, Jiger, Kumi Mizuno, Lon Chaney, Lorena Velazquez, Michael Gough, Michael Rennie, Paul Naschy, Peter Cushing, Robert Reed, Santo, Starman, Ted Cassidy, Valerie Leon, Vincent Price, Viras, Zigra