Item Added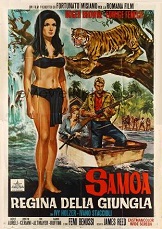 Samoa, Queen Of The Jungle
(1968)
$19.99
aka: Samoa, Regina Della Giungla
A Mr. Wong from Asia sends an expedition of Europeans to Borneo to find diamonds. The expedition must deal with snakes, tigers, quicksand, cannibals and topless native women. Clint (Roger Browne), who loves the blonde-haired Jasmine (Femi Benussi), soon falls for a jungle woman named Samoa (Edwidge Fenech). Also with Karin Schubert. (In Italian language).

German actress Karin Schubert became an adult film star in 1985.

This film comes from an excellent widescreen import print.

Quantity: 1



Sci-Fi, Horror, Cult, Fantasy.... Super Strange Video has the ultimate collection of rare and vintage cult, horror, sci-fi, erotic movies. Featuring Barbara Steele, Bela Lugosi, Boris Karloff, Brigitte Lahaie, Bruce Li, Christopher Lee,, Evelyn Ankers, Frankenstein, Gamera, George Sanders, Guiron, Helga Line, Jiger, Kumi Mizuno, Lon Chaney, Lorena Velazquez, Michael Gough, Michael Rennie, Paul Naschy, Peter Cushing, Robert Reed, Santo, Starman, Ted Cassidy, Valerie Leon, Vincent Price, Viras, Zigra