Item Added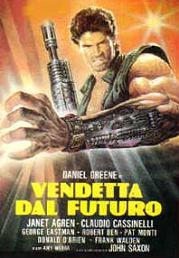 Hands Of Steel
(1986)
$19.99
aka's: Vendetta Dal Futuro/Mani Di Pietra/Destroyer (Brazo De Acero)
An Italian Terminator ripoff. Concerns a half-man, half-robot programmed to kill a scientist who holds the fate of the entire human race in his hands. Stars Daniel Greene, Janet Agren and Claudio Cassinelli. Also with George Eastman and John Saxon.

This film comes from an uncut import print.

NOTE: This was to be Claudio Cassinelli's last film appearance. On July 12th, 1985, during the filming of an action sequence in this film, he was killed instantly when the helicopter he was in crashed. He was 46.

Quantity: 1



Sci-Fi, Horror, Cult, Fantasy.... Super Strange Video has the ultimate collection of rare and vintage cult, horror, sci-fi, erotic movies. Featuring Barbara Steele, Bela Lugosi, Boris Karloff, Brigitte Lahaie, Bruce Li, Christopher Lee,, Evelyn Ankers, Frankenstein, Gamera, George Sanders, Guiron, Helga Line, Jiger, Kumi Mizuno, Lon Chaney, Lorena Velazquez, Michael Gough, Michael Rennie, Paul Naschy, Peter Cushing, Robert Reed, Santo, Starman, Ted Cassidy, Valerie Leon, Vincent Price, Viras, Zigra