Item Added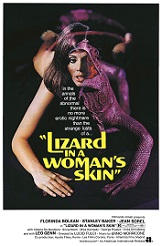 A Lizard in A Woman's Skin
(1971)
$19.99
aka's: Una Lucertola Con La Pelle Di Donna/Una Lagartija Con Piel De Mujer/Les Salopes Vont En Enfer/Schizoid
Deborah (Silvia Monti) has disturbing dreams about murdering her neighbor. After she relates the dreams to her therapist, her neighbor is actually murdered--in exactly the same way that Deborah dreamt it. A police investigation begins, along with some strange revelations, amazing chase sequences and bizarre plot twists. Stars Florinda Bolkan and Stanley Baker.

This film comes from a very nice, fully uncut, widescreen import print.

Director Lucio Fulci earned a measure of infamy for this film because of a very believable scene involving disemboweled dogs. So believable in fact, that Fulci had to prove before a judge (along with special effects man Carlo Rambaldi) that their dogs were in fact fake.

Quantity: 1



Sci-Fi, Horror, Cult, Fantasy.... Super Strange Video has the ultimate collection of rare and vintage cult, horror, sci-fi, erotic movies. Featuring Barbara Steele, Bela Lugosi, Boris Karloff, Brigitte Lahaie, Bruce Li, Christopher Lee,, Evelyn Ankers, Frankenstein, Gamera, George Sanders, Guiron, Helga Line, Jiger, Kumi Mizuno, Lon Chaney, Lorena Velazquez, Michael Gough, Michael Rennie, Paul Naschy, Peter Cushing, Robert Reed, Santo, Starman, Ted Cassidy, Valerie Leon, Vincent Price, Viras, Zigra