Item Added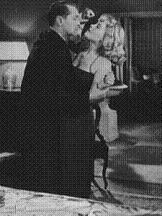 Jigsaw
(1949)
$19.99
aka: Gun Moll
A series of murders is investigated by an assistant district attorney while the gangsters involved stir up racial prejudice. Stars Franchot Tone and Jean Wallace. With cameo appearances by Henry Fonda, Marlene Dietrich, Burgess Meredith and others.

Jean Wallace attempted suicide in 1946 with sleeping pills, and again in 1949 with a self inflicted knife wound.

Burgess Meredith died from complications of Alzheimer's disease and melanoma on September 9, 1997, at his Malibu, California home. He was 89.

Quantity: 1



Sci-Fi, Horror, Cult, Fantasy.... Super Strange Video has the ultimate collection of rare and vintage cult, horror, sci-fi, erotic movies. Featuring Barbara Steele, Bela Lugosi, Boris Karloff, Brigitte Lahaie, Bruce Li, Christopher Lee,, Evelyn Ankers, Frankenstein, Gamera, George Sanders, Guiron, Helga Line, Jiger, Kumi Mizuno, Lon Chaney, Lorena Velazquez, Michael Gough, Michael Rennie, Paul Naschy, Peter Cushing, Robert Reed, Santo, Starman, Ted Cassidy, Valerie Leon, Vincent Price, Viras, Zigra