Item Added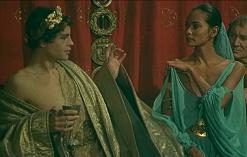 Caligula 2 The Untold Story (Uncut Extended Version)
(1982)
$19.99
aka's: The Emperor Caligula: The Untold Story/ Caligola: La Storia Mai Raccontata/ Caligula II: The Untold Story/Caligula II/Calígula 3, La Historia Jamas Contada/Caligula II: The Forbidden Story/Emperor Caligula: The Garden Of
Taboo
The mad Roman emperor Caligula (David Brandon) romances a young Moor woman (Laura Gemser) who is plotting to kill him, while he continues his debauched lifestyle of orgies and bloody torture murders. Also stars Luciano Bartoli and Charles Borromel. Also with Fabiola Toledo, Sasha D'Arc and Gabriele Tinti. (In English and Italian language, with English subtitles for the Italian sequences).


This film comes from a totally uncut, widescreen German import print in very nice picture quality that also includes 23 minutes of footage (restoring all the blood, gore and sex sequences) which are missing from all other versions.




Quantity: 1



Sci-Fi, Horror, Cult, Fantasy.... Super Strange Video has the ultimate collection of rare and vintage cult, horror, sci-fi, erotic movies. Featuring Barbara Steele, Bela Lugosi, Boris Karloff, Brigitte Lahaie, Bruce Li, Christopher Lee,, Evelyn Ankers, Frankenstein, Gamera, George Sanders, Guiron, Helga Line, Jiger, Kumi Mizuno, Lon Chaney, Lorena Velazquez, Michael Gough, Michael Rennie, Paul Naschy, Peter Cushing, Robert Reed, Santo, Starman, Ted Cassidy, Valerie Leon, Vincent Price, Viras, Zigra