Item Added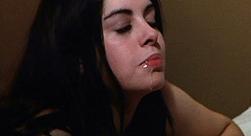 Female Vampire (German Hardcore Version)
(1973)
$19.99
aka's: Loves Of Irina/Yacula/Les Avaleuses/La Comtesse Aux Seins Nus/La Comtesse Noire/The Black Countess/The Last Thrill
Jess Franco's influential erotic horror film, presented here in its full-strength version! Irina (Lina Romay) can only maintain her undead existence through literally draining encounters with victims both male and female; however, her specific sustenance is sexually derived! Also with Monica Swinn and Jess Franco. Totally uncut. (In German language).

Lina Romay died from cancer at age 57 on February 15, 2012 in Malaga, Spain.

Quantity: 1


Sci-Fi, Horror, Cult, Fantasy.... Super Strange Video has the ultimate collection of rare and vintage cult, horror, sci-fi, erotic movies. Featuring Barbara Steele, Bela Lugosi, Boris Karloff, Brigitte Lahaie, Bruce Li, Christopher Lee,, Evelyn Ankers, Frankenstein, Gamera, George Sanders, Guiron, Helga Line, Jiger, Kumi Mizuno, Lon Chaney, Lorena Velazquez, Michael Gough, Michael Rennie, Paul Naschy, Peter Cushing, Robert Reed, Santo, Starman, Ted Cassidy, Valerie Leon, Vincent Price, Viras, Zigra