Item Added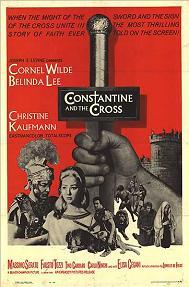 Constantine And The Cross
(1961)
$19.99
aka's: Costantino Il Grande/Constantine The Great
A saga of the early Christians' fight for the freedom to worship. Constantine (Cornel Wilde) defeats the Roman armies and employs the Edict of Tolerance. Also stars Belinda Lee.

This was to be British actress Belinda Lee's last screen appearance. On March 12, 1961, while heading towards San Bernardino, California and traveling at 100 m.p.h., Belinda was involved in a fatal car accident. Sitting next to the driver, her body was thrown 60 feet from the car. She did not die on the spot. She died twenty minutes later from a fractured skull and a broken neck in the arms of a California police officer who watched her moaning repeatedly. He was later quoted as saying "I will remember her as the most beautiful thing I've ever seen." The driver sustained only minor injuries.

Quantity: 1



Hercules and Friends. Super Strange Video has the ultimate collection of rare and vintage cult, horror, sci-fi, erotic movies. Featuring Barbara Steele, Bela Lugosi, Boris Karloff, Brigitte Lahaie, Bruce Li, Christopher Lee,, Evelyn Ankers, Frankenstein, Gamera, George Sanders, Guiron, Helga Line, Jiger, Kumi Mizuno, Lon Chaney, Lorena Velazquez, Michael Gough, Michael Rennie, Paul Naschy, Peter Cushing, Robert Reed, Santo, Starman, Ted Cassidy, Valerie Leon, Vincent Price, Viras, Zigra