Item Added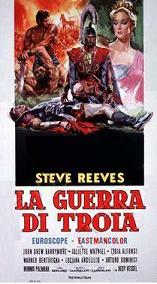 The Trojan Horse
(1961)
$19.99
aka's: La Guerra Di Troia/La Guerre De Troie/The Trojan War/The Wooden Horse Of Troy
Muscles, mythology and history mix in this exciting epic starring Steve Reeves as Aeneas, a Greek warrior who battles leader Paris, tries to find his kidnapped, pregnant wife Creusa and joins fellow fighters in the famous Trojan Horse. With John Drew Barrymore, Juliette Mayniel and Mimmo Palmara.

Taken from a widescreen import print.

Quantity: 1



Hercules And Friends. Super Strange Video has the ultimate collection of rare and vintage cult, horror, sci-fi, erotic movies. Featuring Barbara Steele, Bela Lugosi, Boris Karloff, Brigitte Lahaie, Bruce Li, Christopher Lee,, Evelyn Ankers, Frankenstein, Gamera, George Sanders, Guiron, Helga Line, Jiger, Kumi Mizuno, Lon Chaney, Lorena Velazquez, Michael Gough, Michael Rennie, Paul Naschy, Peter Cushing, Robert Reed, Santo, Starman, Ted Cassidy, Valerie Leon, Vincent Price, Viras, Zigra