Item Added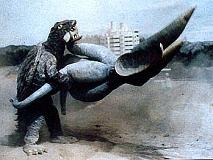 Destroy All Planets (U.S. Version)
(1968)
$19.99
aka's: Gamera Tai Uchu Kaijû Bairasu/Gamera vs. Viras/Gamera vs. Outer Space Monster Viras/
ガメラ対宇宙怪獣バイラス
Gamera the Flying Turtle falls under the control of evil aliens, but two children are able to free him so he can destroy the alien ship and to fight the aliens' giant monster squid, Viras. This is the English language version of Gamera vs. Viras (also available here at SSV). Stars Kojiro Hongo, Tôru Takatsuka and Kurl Crane.

The character of boy scout Jim Morgan in this film was then 11-year old Carl Craig's (aka Kurl Crane) only acting job. But even though he had no ambition to become an actor, he nevertheless became a celebrity to friends and fellow children in Japan. He later became a U.S. Air Force pilot (which he had always dreamed of becoming) and later a U.S. Customs Service pilot. He was also an advisor on the staff of then U.S. President George Bush. But Carl still fondly remembers his one acting role to this day and is kind enough to share his memories of the film with his many fans at Japanese monster (kaiju eiga) conventions.

Quantity: 1



Sci-Fi, Horror, Cult, Fantasy.... Super Strange Video has the ultimate collection of rare and vintage cult, horror, sci-fi, erotic movies. Featuring Barbara Steele, Bela Lugosi, Boris Karloff, Brigitte Lahaie, Bruce Li, Christopher Lee,, Evelyn Ankers, Frankenstein, Gamera, George Sanders, Guiron, Helga Line, Jiger, Kumi Mizuno, Lon Chaney, Lorena Velazquez, Michael Gough, Michael Rennie, Paul Naschy, Peter Cushing, Robert Reed, Santo, Starman, Ted Cassidy, Valerie Leon, Vincent Price, Viras, Zigra