Item Added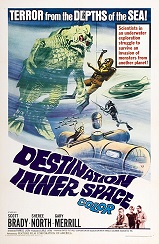 Destination Inner Space (35mm Upgrade)
(1966)
$19.99
aka's: Terror Of The Deep/Beast From 5000 Fathoms
At an experimental underwater laboratory a mysterious object of unknown origin is detected in the area. A group of researchers investigate and find an automated extraterrestrial probe. They board the craft and discover a small object at first considered to be some sort of instrument package, which they take back to the lab for closer inspection--with disastrous results. Stars Scott Brady, Sheree North and Gary Merrill. Also with Wende Wagner (aka: Lenore "Casey" Case in The Green Hornet).

Wende Wagner died of cancer on February 26, 1997 in Santa Monica, CA.

This film came from a German import print in excellent picture quality.

Quantity: 1



New Arrivals. Super Strange Video has the ultimate collection of rare and vintage cult, horror, sci-fi, erotic movies. Featuring Barbara Steele, Bela Lugosi, Boris Karloff, Brigitte Lahaie, Bruce Li, Christopher Lee,, Evelyn Ankers, Frankenstein, Gamera, George Sanders, Guiron, Helga Line, Jiger, Kumi Mizuno, Lon Chaney, Lorena Velazquez, Michael Gough, Michael Rennie, Paul Naschy, Peter Cushing, Robert Reed, Santo, Starman, Ted Cassidy, Valerie Leon, Vincent Price, Viras, Zigra