Item Added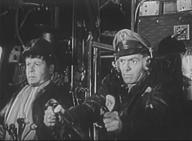 Terry And The Pirates
(1952)
$29.99
Colonel Terry Lee (John Baer) travels to the Orient in search of a gold mine left to him by his grandfather. While searching, he is a pilot employed by a "no questions asked" airline, run by Chopstick Joe (Jack Reitzen). His friend and co-pilot is Hotshot Charlie (William Tracy). His love interest is a girl named Burma (Sandra Spence). He and his friends are constantly in hot water, thanks to the mysterious Dragon Lady (Gloria Saunders), as they fly from one exotic location to the next.

Episodes included in this set are:
Boxer's Rebellion
Chinese Legacy
Green God
The Co-Pilot
Black Market For Death
Loaded Dice Affair
Macao
Tee Hee
Diplomatic Passport
Little Mandarin
The Maitland Affair
Chinese Coffin

Sold as a 3-DVD-R or VHS set.

Quantity: 1


TV Shows. Super Strange Video has the ultimate collection of rare and vintage cult, horror, sci-fi, erotic movies. Featuring Barbara Steele, Bela Lugosi, Boris Karloff, Brigitte Lahaie, Bruce Li, Christopher Lee,, Evelyn Ankers, Frankenstein, Gamera, George Sanders, Guiron, Helga Line, Jiger, Kumi Mizuno, Lon Chaney, Lorena Velazquez, Michael Gough, Michael Rennie, Paul Naschy, Peter Cushing, Robert Reed, Santo, Starman, Ted Cassidy, Valerie Leon, Vincent Price, Viras, Zigra