Item Added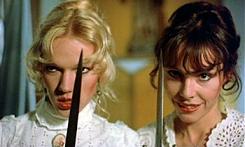 Fascination
(1979)
$19.99
aka: El Castillo De Las Vampiras
This erotic horror film, set in 1916, tells the story of a thief who seeks refuge in a castle owned by two women, Eva (Brigitte Lahaie) and Elizabeth (Franca Mai). The women are seductive and teasing, but turn out to be part of a vampiric cult of blood drinking aristocrats. (In French language, with English subtitles).

This film comes from a very nice, slightly widescreen, uncut import print.

Quantity: 1



Brigitte Lahaie. Super Strange Video has the ultimate collection of rare and vintage cult, horror, sci-fi, erotic movies. Featuring Barbara Steele, Bela Lugosi, Boris Karloff, Brigitte Lahaie, Bruce Li, Christopher Lee,, Evelyn Ankers, Frankenstein, Gamera, George Sanders, Guiron, Helga Line, Jiger, Kumi Mizuno, Lon Chaney, Lorena Velazquez, Michael Gough, Michael Rennie, Paul Naschy, Peter Cushing, Robert Reed, Santo, Starman, Ted Cassidy, Valerie Leon, Vincent Price, Viras, Zigra