Item Added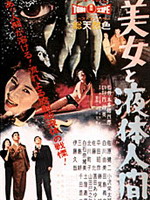 The H-Man (Japanese Language Version)
(1958)
$19.99
aka's: Bijo To Ekitai Ningen/Beauty And The Liquidman/The H Man/美女と液体人間
When a narcotics deal goes sour and a suspect disappears, leaving only his clothes, Tokyo police question his wife (Yumi Shirakawa) and stake out the nightclub where she works. His disappearance stumps the police - until a young scientist (Kenji Sahara) appears who claims that H-Bomb tests in the Pacific, evidenced by a "ghost ship" that has turned up in the harbor, have created radioactive creatures - "H-Men" - who ooze like slime and dissolve anyone they touch. (In Japanese language, with English subtitles).


This film came from a rare Japanese import print, which includes about 8 minutes of footage that was cut from the U.S. release.

Quantity: 1



Sci-Fi, Horror, Cult, Fantasy.... Super Strange Video has the ultimate collection of rare and vintage cult, horror, sci-fi, erotic movies. Featuring Barbara Steele, Bela Lugosi, Boris Karloff, Brigitte Lahaie, Bruce Li, Christopher Lee,, Evelyn Ankers, Frankenstein, Gamera, George Sanders, Guiron, Helga Line, Jiger, Kumi Mizuno, Lon Chaney, Lorena Velazquez, Michael Gough, Michael Rennie, Paul Naschy, Peter Cushing, Robert Reed, Santo, Starman, Ted Cassidy, Valerie Leon, Vincent Price, Viras, Zigra