Item Added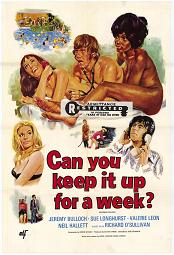 Can You Keep It Up For A Week?
(1975)
$19.99
aka's: Can I Keep It Up For A Week?/Keep It for Me
A young man (Jeremy Bulloch) has trouble keeping any type of job for long. His girlfriend (Jill Damas) demands he stay employed at his latest workplace for at least a week--or else they are through! But the amorous attentions of other women keep complicating things. Also stars Neil Hallett. Also with Joy Harrington, Maria Coyne, Valerie Phillips, Frances Bennett, Sally Harrison, Sue Longhurst, Jenny Cox, Venicia Day, Richard O'Sullivan and Valerie Leon.

Quantity: 1



Sci-Fi, Horror, Cult, Fantasy.... Super Strange Video has the ultimate collection of rare and vintage cult, horror, sci-fi, erotic movies. Featuring Barbara Steele, Bela Lugosi, Boris Karloff, Brigitte Lahaie, Bruce Li, Christopher Lee,, Evelyn Ankers, Frankenstein, Gamera, George Sanders, Guiron, Helga Line, Jiger, Kumi Mizuno, Lon Chaney, Lorena Velazquez, Michael Gough, Michael Rennie, Paul Naschy, Peter Cushing, Robert Reed, Santo, Starman, Ted Cassidy, Valerie Leon, Vincent Price, Viras, Zigra