Item Added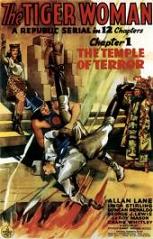 Perils Of The Darkest Jungle
(1944)
$24.99
aka: The Tiger Woman
Greedy oil speculators, led by Morgan (George Lewis), are trying to force Tiger Woman (Linda Stirling) and her band of warriors from their jungle home. Allen Saunders (Allen Lane) of Inter-Ocean Oil wants to develop the oil too, but fights with Tiger Woman to stop the bad guys.

12 chapter serial, 2 VHS or DVD-R set.

Quantity: 1



Rare Serials. Super Strange Video has the ultimate collection of rare and vintage cult, horror, sci-fi, erotic movies. Featuring Barbara Steele, Bela Lugosi, Boris Karloff, Brigitte Lahaie, Bruce Li, Christopher Lee,, Evelyn Ankers, Frankenstein, Gamera, George Sanders, Guiron, Helga Line, Jiger, Kumi Mizuno, Lon Chaney, Lorena Velazquez, Michael Gough, Michael Rennie, Paul Naschy, Peter Cushing, Robert Reed, Santo, Starman, Ted Cassidy, Valerie Leon, Vincent Price, Viras, Zigra