Item Added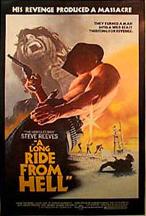 A Long Ride From Hell
(1968)
$19.99
aka's: I Live For Your Death/Vivo Per La Tua Morte
Mike Sturges (Steve Reeves) and his younger brother Roy (Franco Fantasia) are sentenced to Yuma Penitentiary on a trumped-up train robbery charge. Both endure cruel treatment before Mike escapes to extract revenge on their enemies. Also with Silvana Venturelli.

This film comes from a rare import print which is in very good picture quality. The best currently available anywhere, unlike others being offered elsewhere.

This was Steve Reeves' last screen appearance. A shoulder injury forced his retirement, so he spent the remainder of his life promoting drug-free bodybuilding while living on a ranch and breeding horses. He was reportedly diagnosed with lymphoma only six weeks prior to his death on May 1st, 2000. He was 74.

Reeves often criticized the use of steroids in body building because he felt that it undermined the health value and challenge of body building as a sport. He once remarked, "Body builders used to come in all shapes and sizes. Now they all look like Arnold" (as in Schwarzenegger).

Quantity: 1



Spaghetti Westerns. Super Strange Video has the ultimate collection of rare and vintage cult, horror, sci-fi, erotic movies. Featuring Barbara Steele, Bela Lugosi, Boris Karloff, Brigitte Lahaie, Bruce Li, Christopher Lee,, Evelyn Ankers, Frankenstein, Gamera, George Sanders, Guiron, Helga Line, Jiger, Kumi Mizuno, Lon Chaney, Lorena Velazquez, Michael Gough, Michael Rennie, Paul Naschy, Peter Cushing, Robert Reed, Santo, Starman, Ted Cassidy, Valerie Leon, Vincent Price, Viras, Zigra