Item Added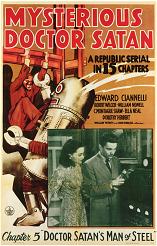 Mysterious Doctor Satan
(1940)
$24.99
aka: Doctor Satan's Robot
A mad scientist named Dr. Satan (Edward Ciannelli) plots to steal key pieces of technology to enable him to build an army of robots, based on his prototype, to conquer America. The only thing standing in his way is Bob Wayne (Robert Wilcox), who fights Satan as the enigmatic Copperhead.

15 chapter serial, 2 VHS or DVD-R set.

Quantity: 1



Rare Serials. Super Strange Video has the ultimate collection of rare and vintage cult, horror, sci-fi, erotic movies. Featuring Barbara Steele, Bela Lugosi, Boris Karloff, Brigitte Lahaie, Bruce Li, Christopher Lee,, Evelyn Ankers, Frankenstein, Gamera, George Sanders, Guiron, Helga Line, Jiger, Kumi Mizuno, Lon Chaney, Lorena Velazquez, Michael Gough, Michael Rennie, Paul Naschy, Peter Cushing, Robert Reed, Santo, Starman, Ted Cassidy, Valerie Leon, Vincent Price, Viras, Zigra