Item Added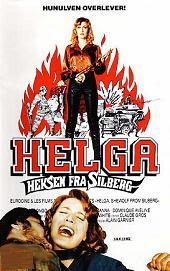 Helga She Wolf Of Spilberg (English Language Version)
(1977)
$19.99
aka's: Helga, La Louve De Spilberg/Girl Slaves/Helga, The Leather Mistress
Nazi/bitch warden Helga (Malisa Longo) is in control of a prison during a fictional war in Europe. Women are brought in, then are beaten, humiliated and raped. Lots of sleaze and sadism. (Totally uncut). This is the English language version of Helga, La Louve De Stilberg (also available here at SSV).

NOTE: The picture quality for this film is a bit soft, but currently the best uncut English language version available anywhere.

Quantity: 1


Sci-Fi, Horror, Cult, Fantasy.... Super Strange Video has the ultimate collection of rare and vintage cult, horror, sci-fi, erotic movies. Featuring Barbara Steele, Bela Lugosi, Boris Karloff, Brigitte Lahaie, Bruce Li, Christopher Lee,, Evelyn Ankers, Frankenstein, Gamera, George Sanders, Guiron, Helga Line, Jiger, Kumi Mizuno, Lon Chaney, Lorena Velazquez, Michael Gough, Michael Rennie, Paul Naschy, Peter Cushing, Robert Reed, Santo, Starman, Ted Cassidy, Valerie Leon, Vincent Price, Viras, Zigra