Item Added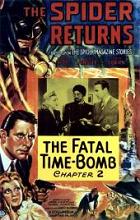 The Spider Returns
(1941)
$24.99
A gang of saboteurs, led by The Gargoyle, a mysterious and powerful agent for an unnamed country, plays havoc with National Defense projects. Socialite Richard Wentworth (Warren Hull), alias the Spider, returns to continue his crusade against the underworld. Also stars Mary Ainslee and Dave O'Brien.


15 chapter serial, sold as a 2 DVD-R set.


This rare serial was transferred from a good 16mm film print and features the best picture quality currently available anywhere.

Quantity: 1



Rare Serials. Super Strange Video has the ultimate collection of rare and vintage cult, horror, sci-fi, erotic movies. Featuring Barbara Steele, Bela Lugosi, Boris Karloff, Brigitte Lahaie, Bruce Li, Christopher Lee,, Evelyn Ankers, Frankenstein, Gamera, George Sanders, Guiron, Helga Line, Jiger, Kumi Mizuno, Lon Chaney, Lorena Velazquez, Michael Gough, Michael Rennie, Paul Naschy, Peter Cushing, Robert Reed, Santo, Starman, Ted Cassidy, Valerie Leon, Vincent Price, Viras, Zigra