Item Added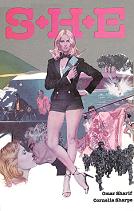 S*H*E
(1980)
$19.99
aka's: S*H*E: Security Hazards Expert/SHE
Cornelia Sharpe plays a beautiful and seductive Security Hazards Expert who uses her "ultimate weapon" to help get a line on U.S. syndicate boss, Owen Hooper (Robert Lansing). Working together, Baron Cesare Magnasco (Omar Sharif), Hooper, and Dr. Else Biebling (Anita Ekberg) are sabotaging the U.N. through commando strikes on the world's oil supply.

Robert Lansing guest-starred as Gary Seven in the original Star Trek TV series episode "Assignment: Earth."

Quantity: 1



Sci-Fi, Horror, Cult, Fantasy.... Super Strange Video has the ultimate collection of rare and vintage cult, horror, sci-fi, erotic movies. Featuring Barbara Steele, Bela Lugosi, Boris Karloff, Brigitte Lahaie, Bruce Li, Christopher Lee,, Evelyn Ankers, Frankenstein, Gamera, George Sanders, Guiron, Helga Line, Jiger, Kumi Mizuno, Lon Chaney, Lorena Velazquez, Michael Gough, Michael Rennie, Paul Naschy, Peter Cushing, Robert Reed, Santo, Starman, Ted Cassidy, Valerie Leon, Vincent Price, Viras, Zigra