Item Added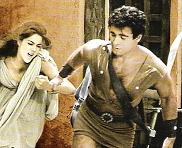 The Rape Of The Sabine Women
(1962)
$19.99
aka's: El Rapto De Las Sabinas/The Rape Of The Sabines/The Shame Of The Sabine Women
The Sabine tribe battles Romulus in the early days of Rome, after Romans seize their women as unwilling brides. Stars Lorena Velazquez, Lex Johnson and Tere Velázquez. Also with Wolf Ruvinskis, Luis Induni and Carolina Jiménez. (In Spanish language).


TRIVIA: Tere Velázquez is the Blonde, younger sister of Lorena Velázquez.

Quantity: 1



Hercules and Friends. Super Strange Video has the ultimate collection of rare and vintage cult, horror, sci-fi, erotic movies. Featuring Barbara Steele, Bela Lugosi, Boris Karloff, Brigitte Lahaie, Bruce Li, Christopher Lee,, Evelyn Ankers, Frankenstein, Gamera, George Sanders, Guiron, Helga Line, Jiger, Kumi Mizuno, Lon Chaney, Lorena Velazquez, Michael Gough, Michael Rennie, Paul Naschy, Peter Cushing, Robert Reed, Santo, Starman, Ted Cassidy, Valerie Leon, Vincent Price, Viras, Zigra