Item Added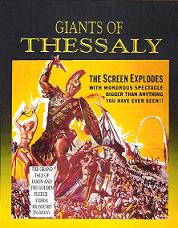 Giants Of Thessaly
(1960)
$19.99
aka: I Giganti Della Tessaglia
In order to placate the angry gods, who have allowed Thessaly to be overrun with barbarian invaders and beset with natural disasters, King Jason (Roland Carey) takes his Argonauts on a search for the fabled Golden Fleece. Meanwhile, back at home, his scheming regent is plotting to get his hands on the kingdom-and the queen.

Comes from an Italian widescreen import print of excellent picture quality.

Quantity: 1



Hercules and Friends. Super Strange Video has the ultimate collection of rare and vintage cult, horror, sci-fi, erotic movies. Featuring Barbara Steele, Bela Lugosi, Boris Karloff, Brigitte Lahaie, Bruce Li, Christopher Lee,, Evelyn Ankers, Frankenstein, Gamera, George Sanders, Guiron, Helga Line, Jiger, Kumi Mizuno, Lon Chaney, Lorena Velazquez, Michael Gough, Michael Rennie, Paul Naschy, Peter Cushing, Robert Reed, Santo, Starman, Ted Cassidy, Valerie Leon, Vincent Price, Viras, Zigra