Item Added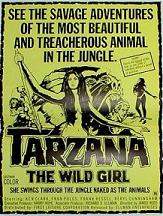 Tarzana The Wild Girl
(1969)
$19.99
aka's: Tarzana, The Wild Woman/Tarzana, Sesso Selvaggio
A plane crashes deep in the African jungle. Years later, an expedition comes across a beautiful white girl (Femi Benussi) who is living wild in the jungle and who may be a survivor of that plane crash. Also stars Ken Clark and Franca Polesello.

Leaving Hollywood behind for the greener pastures of European films, actor Ken Clark became very popular in spy thrillers and spaghetti westerns in the 1960's, remaining in Italy to act in films and television programs. According to fellow actor Robert Woods, Ken Clark died from a heart attack in Rome on June 1st, 2009, at the age of 81. Clark had just wrapped shooting on an Italian television show titled Stracult at the time of his death. It was unknown if Clark left any survivors. In 1962 and 1963, he was romantically linked to actress Shelley Winters.

Quantity: 1


Sci-Fi, Horror, Cult, Fantasy.... Super Strange Video has the ultimate collection of rare and vintage cult, horror, sci-fi, erotic movies. Featuring Barbara Steele, Bela Lugosi, Boris Karloff, Brigitte Lahaie, Bruce Li, Christopher Lee,, Evelyn Ankers, Frankenstein, Gamera, George Sanders, Guiron, Helga Line, Jiger, Kumi Mizuno, Lon Chaney, Lorena Velazquez, Michael Gough, Michael Rennie, Paul Naschy, Peter Cushing, Robert Reed, Santo, Starman, Ted Cassidy, Valerie Leon, Vincent Price, Viras, Zigra